"CSM Frank A. Socha" Educational Assistance Grant
CSM Socha's untimely death left behind two sons and his wife Brenda. Frank provided his GI Bill education benefits to his older son Frank Jr., and expressed his concern that his youngest son Chad would not be able to attend college once he passed. The leadership of 10th SFG(A) reached out to Chapter 4-24 for assistance and together were able to find two large donors. With the help of The Christian P. Anschutz Foundation and the establishment of the Special Forces Charitable Trust, the CSM Socha Educational Assistance grant was established in 2011. The first CSM Frank A. Socha Scholarship Award was presented to Chad on April 29, 2011. Chad continued to receive the Grant until his Graduation in 2015. What started out to help several has helped over 150 recipients totaling over $250K. In 2017, $30K was presented to 20 recipients.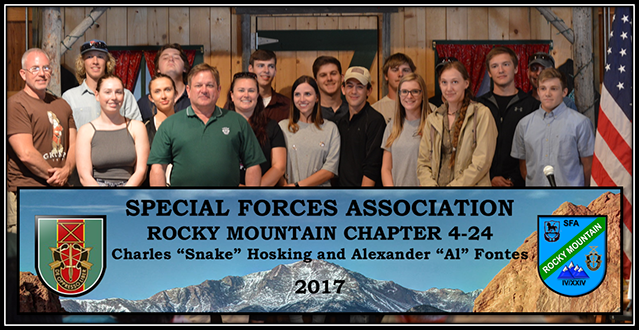 HELP SUPPORT THE PROGRAM, DONTATE NOW!
http://www.specialforcesassociation.org/donations/scholarship-fund/
https://specialforcescharitabletrust.org
"For our family with three children in college every dollar helps off set the incredible high cost of three four year educations. The CSM Socha grant has made a great contribution to all of us completing our education." - Paul Cuppett