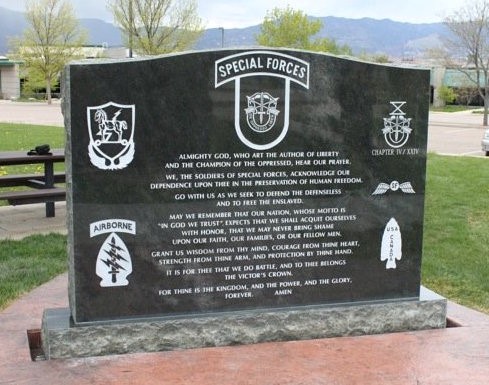 Every Memorial Day, Chapter 4-24 leads several other veteran organizations in a Memorial Day Remembrance at the Veterans Memorial, Memorial Park, Colorado Springs, CO in order to remember those who have died in the service of the United States of America.
The Remembrance starts off with opening remarks from the Chapter President, Invocation by the Chapter Chaplain, National Anthem song by Kathryn, wreaths laid by the veteran fraternal organizations, God Bless America song by Kathryn, and ends with Benediction by Chapter Chaplain.
After the official Remembrance, the Chapter, family and friends gathers at the Special Forces Monument for pictures and then moves to the Veterans of Foreign Wars Post 101 for socializing.
In November 2009, Chapter 4-24 submitted a proposal at the Parks and Recreation Advisory Board, Colorado Springs, to erect a memorial to honor Special Forces active duty, retired and honored dead on Memorial Day and Veterans Day. The Board approved the memorial to be located on the west side of the Circle of Honor, (plot 14), Veterans Memorial in Memorial Park. The design of the monument includes insignias of the Special Forces' tradition from World War II and on, and the Special Forces Prayer. The Chapter established a goal of completing the memorial in time for a dedication on Memorial Day, 2010 and made that date.
For information about Memorial Day visit http://www.usmemorialday.org
Please join us at this year's Memorial Day Remembrance