Master Sergeant
Charles "Snake" Hosking Jr.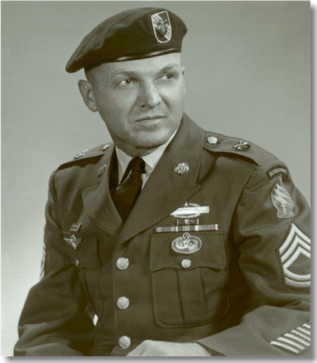 Master Sergeant Hosking was born 12 May 1924 in Ramsey NJ. However, during his high school years, Hosking ran away from home and enlisted in the famous Canadian Infantry Regiment known as The Black Watch. His enlistment didn't last long though; he was found and quickly returned home. That didn't stop Hosking; he ran away again and joined the United States Coast Guard. Nearing his 18th Birthday in 1942, Hosking enlisted in the United States Army, at Fort Dix NJ and then with the 69th Infantry Division, Camp Shelby, MS in 1943.
During WWII, he trained at the 5th Army Airborne Training Center in Italy and served with B Company, 509th Parachute Infantry Battalion (combat jump into southern France and the Battle of the Bulge). Even though he was wounded, Hosking was one of only 50 paratroopers to be standing at the end of the Battle of the Bulge. After the war, he served as an Instructor at the Parachute Infantry Training School, Fort Benning GA and with the 503rd Airborne Infantry Regiment at Fort Campbell KY. While there, he sustained injuries during a bazooka training accident that kept him out of the Korean War. After recovering from his injuries, Hosking moved to Fort Bragg NC and volunteered for Special Forces.
Not soon after, he served as an original member of 10th Special Forces Group (Airborne) in the mid 1950's at Bad Tolz Germany until the early 60's. In the summer of 1960, Hosking was hand selected to serve on a small rescue team that evacuated over 230 Americans and Europeans from the Congo. After his tour with 10th Group, he was reassigned to 5th Special Forces Group (Airborne), Fort Bragg NC, and performed three tours in Vietnam.
First as an advisor for six months in 1963, then 1965-1966, and finally in 1967 when he was killed in action on 21 March 1967. Hosking was posthumously promoted to Master Sergeant and awarded the Medal of Honor for his actions on 21 March. Hosking's nickname "Snake" came about by several stories. 1) Hosking had a front bridge, due to his teeth being knock out in a fight, and would slip out when he drank. This caused him to spit like a "Snake". 2) Hosking managed to slither out of a jail cell during a training exercise like a "Snake".
Master Sergeant Hosking's Awards, Decorations and Schools: Medal of Honor (Army), Purple Heart (One Bronze Oak Leaf Cluster), Bronze Star (Valor/One Bronze Oak Leaf Cluster), Army Commendation Medal, Good Conduct Medal (One Silver Knot), European-African-Middle Eastern Campaign Medal (Arrowhead/Two Bronze Service Stars), World War II Victory Medal, National Defense Service Medal, Vietnam Service Medal (Three Bronze Service Stars), Army Presidential Unit Citation (Two Bronze Oak Leaf Clusters), Republic of Vietnam Campaign Medal, Vietnam Gallantry Cross Unit Citation; Combat Infantryman Badge (2nd Award), Master Parachutist Badge (One Bronze Service Star); Vietnam Airborne Wings; Airborne and Jumpmaster Courses, American Army Intelligence and Language School
Military and Civilian Honors: Congressional Medal of Honor Society http://www.cmohs.org; Special Forces Association Rocky Mountain Chapter 4-24 Dedication Colorado Springs CO; Distinguished member of the Special Forces Regiment Fort Bragg NC; Hosking Field House Fort Bragg NC; Camp Charles Snake Hosking Bien Hoa Vietnam; Vietnam War Memorial Wall, Washington DC; Special Operations Memorial MacDill AFB, FL; Master Sergeant Charles E. Hosking Jr. Memorial Ramsey NJ;
Master Sergeant Charles E. Hosking's Burial Site: Valleau Cemetery, Ridgewood, NJ.
Master Sergeant Hosking was married to Gloria and had three daughters and one son at the time of his death.
Books about Master Sergeant Hosking: "Snake's Daughter: The Roads in and out of War", by Gail Hosking Gilberg, University of Iowa Press, Iowa City, 1997
Congressional Medal of Honor Recipient
(Army)
Charles E. Hosking Jr.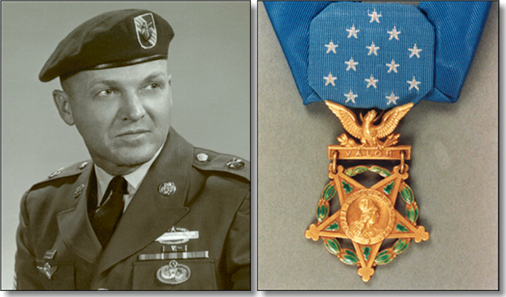 • Rank: Master Sergeant
• Organization: U.S. Army, Company A, 5th Special Forces Group (Airborne), 1st Special Forces
• Born: 12 May 1924, Ramsey NJ
• Place and date: Phuoc Long Province, Republic of Vietnam, 21 March 1967
Citation
For conspicuous gallantry and intrepidity in action at the risk of his life above and beyond the call of duty. M/Sgt. Hosking (then Sfc.), Detachment A-302, Company A, greatly distinguished himself while serving as company advisor in the III Corps Civilian Irregular Defense Group Reaction Battalion during combat operations in Don Luan District. A Viet Cong suspect was apprehended and subsequently identified as a Viet Cong sniper. While M/Sgt. Hosking was preparing the enemy for movement back to the base camp, the prisoner suddenly grabbed a hand grenade from M/Sgt. Hosking's belt, armed the grenade, and started running towards the company command group which consisted of 2 Americans and 2 Vietnamese who were standing a few feet away. Instantly realizing that the enemy intended to kill the other men, M/Sgt. Hosking immediately leaped upon the Viet Cong's back. With utter disregard for his personal safety, he grasped the Viet Cong in a "Bear Hug" forcing the grenade against the enemy soldier's chest. He then wrestled the Viet Cong to the ground and covered the enemy's body with his body until the grenade detonated. The blast instantly killed both M/Sgt. Hosking and the Viet Cong. By absorbing the full force of the exploding grenade with his body and that of the enemy, he saved the other members of his command group from death or serious injury. M/Sgt. Hosking's risk of his life above and beyond the call of duty are in the highest tradition of the U.S. Army and reflect great credit upon himself and the Armed Forces of his country.