Get your Colorado Special Forces License Plate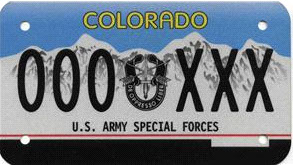 1. Fill out the form completely, then either fax your application and supporting documentation to the number listed on teh form, or take them by your local Colorado DMV Office.
2. In a few weeks, you will receive a notice in the mail.
3. Call the number listed and advise them where you will be picking up the plates.
4. Go to the DMV office and bring:
a. Your old plates
b. Registration
c. Proof of Insurance
d. Money
e. The DMV will take your money and old plates, then give you your new plates.
Notes:
1. The plate is not customizable. To do so would eliminate the SF Crest in the middle, which is in part, the reason for the plate.
2. This plate is available for 4-wheel, as well as 2-wheel conveyances.
Military License Plate Application